Potentially the last PURE Strata-landed in the coming years (and for good reasons), Belgravia Ace is a FREEHOLD development and for one who is seeking spacious living and real estate as legacy planning, will not want to miss.
Sitting on an enormous land plot size of over 290,000 sf, right in the heart of a landed enclave in District 28, Belgravia Ace oozes exclusivity with only 107 units – 104 Semi-detached and 3 terraces and a very unique feature of this development which is a first, is the long drive-way lined with flora, leading into the development, reminiscent of the Hollywood Boulevard.
Strata-landed vs Pure-landed
Landed-living to many Singaporeans is an indication one has 'made-it' in life as the hefty price tag is generally out of reach to the masses. So what might be the differences between strata-landed and pure-landed? 
Ultimately, the main difference will be the title deed – pure-landed means one has direct ownership of the land parcel, allowing the individual to enjoy the appreciation of value of the land, especially in a land scarce country such as Singapore. On the other hand, for strata-titled properties, the land ownership is shared amongst the various owners (subsidiary proprietors), akin to a condominium, wherein there will be restrictions in place for each owner.
However, this does not mean a strata-landed development is in any way an inferior product, rather we would say it is a totally different product for a different target audience and it does bring its slew of benefits.
Pricing
Based on historical data, over the last 10 years, strata-landed developments have enjoyed similar capital appreciation of 5% p.a. In comparison to landed properties but  at almost a 30% discount entry price!
Parking
This may come as a weird one, however certain landed owners, due to limited porch space sometimes find themselves having to park their 2nd or 3rd car curbside, which generally are single lane and hence very squeezy. Including the cars of the supper-goers or non-residents, landed residents may sometimes find themselves without space to park or resort to having to put parking cones outside their home.
Strata-landed units on the other hand have allocated lots and hence coming home is stress-free everyday.
Security & Safety
Besides parking woes, due to easy access of non-residents to landed homes, residents will generally be required to install their own security systems to safeguard against any potential break-ins or theft. Strata-landed have gated compounds with 24/7 security, providing peace of mind for the residents.
Facilities & Maintenance
Pure landed has almost no restrictions on the usage of the land (besides restrictions by authorities). Landed owners can decide the type and size of facilities to be built (ie swimming pool, gym, etc). However, all structural maintenance and upkeep in the long run may prove to be costly as all costs are borne by the single owner.
In strata-landed developments, facilities and landscaping are done up by developers as a way to draw interest from buyers and whilst there is a monthly maintenance fee and sinking fund contribution, upkeep of the place is divided fairly across the residents, thus ultimately reducing costs. Furthermore, having a management committee to handle maintenance issues of the place allows residents to enjoy more living and less worrying.
Why Belgravia Ace?
Belgravia Ace will be the largest Strata-landed plot till date but with only 107 units due to the latest URA regulations, requiring significantly more land area to be set aside for greenery and communal living.
A huge focal point which we feel should be emphasized is the safety for multi-generational living. Vehicle traffic is mostly underground and is totally separated from communal spaces, hence, residents can have a piece of mind with the young ones and the elderly enjoying the facilities.
Being the final of the Belgravia series by Tong Eng Group. The developers have taken feedback from the earlier developments and made necessary changes, with an expected launch price of 1xxx psf, we feel it is very competitively priced in the D28 landed segment based on the recent resale transactions in the area.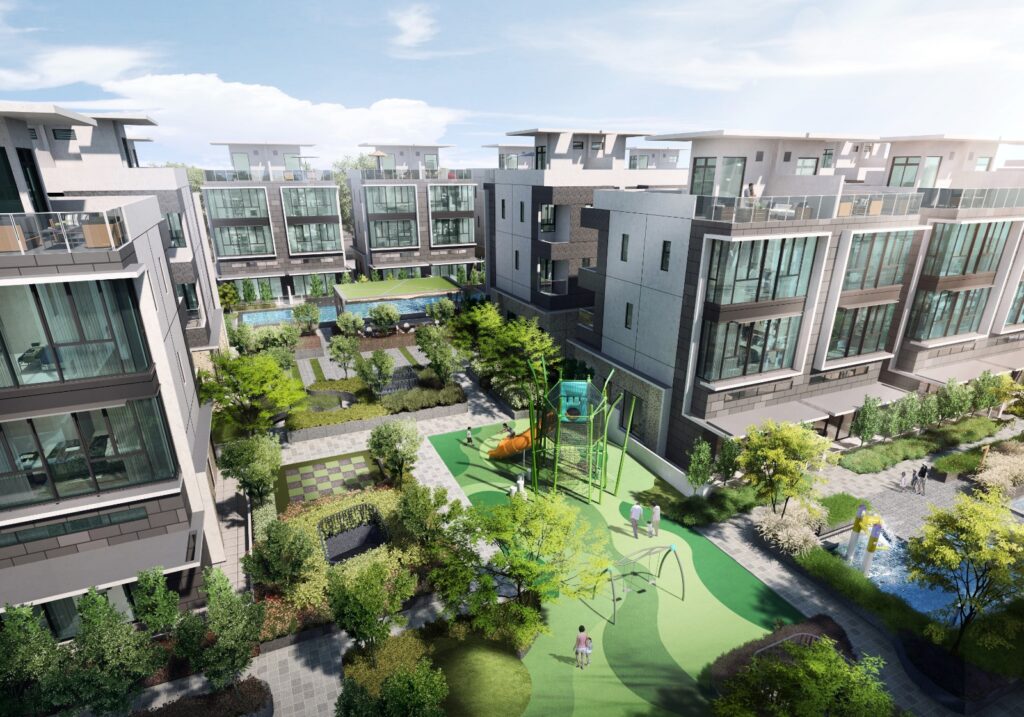 Who is Belgravia Ace for?
This development is conveniently located within minutes drive to multiple shopping, dining and entertainment options in the seletar region. Nature lovers and fitness enthusiasts will be spoilt for options with surrounding parks or hop on the Park Connector right at the doorstep to access jogging/cycling paths all over Singapore.
Given that the unit sizes in Belgravia Ace are slightly larger than surrounding projects, this is definitely a choice development for a family nucleus with multiple children or multi-generational living.
Preview of Belgravia Ace will be from the 8th till 19th of January 2022, if you are interested to find out more, do reach out to us! Otherwise, consider reading our reviews of other projects or keep up to date with real estate happenings in Singapore.